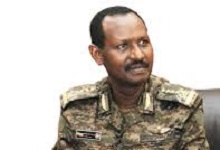 Egyptian leaders wrong thinking and attitude will severely hurt Egypt, says General Birhanu Jula, Ethiopian Army Chief of Staff and military operations division head.

Speaking to the state daily Amharic newspaper on Friday, General Birhanu indicated that when it comes to its sovereignty and dignity the people of Ethiopia do not fear death. This is known by the whole world let alone Egypt. He stated that when it comes to war, Egyptians know how Ethiopians battle. General Berhanu stated that collecting weapons in bulk will not guarantee victory during war. he indicated that there are scientific and basic principles of war, which can make one victorious. "Ethiopians have all these key basic keys," he said.
"Egyptians have huge weapons, which they collected for the past 30 and 40 years. Using this military weapons, they are trying to threaten us from using out common water. They shouldn't have thought like this," said. Egyptians shouldn't have to think of fighting with Ethiopia. They should be very friendly to Ethiopia and think how they mutually use the Nile River, according to General Birhanu.
Indicating that the Creator has created the water (Nile Water) within Ethiopia and allowed it to flow to Sudan and Egypt. "So the water of the Nile River will be utilized by Ethiopia, Sudan and Egypt," he said.
"Other than this, the thinking / attitude that the Nile water should not be utilized by the upper stream countries but only be used by down stream countries is not realistic and against international laws. This wrong thinking of the leaders of Egypt will severely hurt Egypt," he said.
Egyptian army will never enter Ethiopian territory and watch the river streams that flow into the Nile River, according to General Birhanu, who stated that the current attitude of Egyptian leaders will create more enemies to Egypt.
"The army cannot step into the territory of Ethiopia. These river streams by themselves have mighty power than war," he said, indicating that for a long time Egyptian leaders, politicians, media and elites have been misleading the people of Egypt and put them in fear by telling the people of Egypt that they are going to be in trouble (starve) if Ethiopia uses the Nile water.
"This (lie / propaganda) has put them in trouble today," he said, advising Egyptian leaders and politicians to think of sustainable benefits of the people of Egypt. "They should have thought how Egyptians people and other people (in the Nile Basin) can utilize the water with brotherhood, respect and love to each other," he said.
"This is what was expected from a wise and visionary political leaders who cares about its people," he said. But other than this, the current dissemination of false reports across the world labeling Ethiopia as enemy of the people of Egypt, is meaningless, according to General Birhanu.
His statement came after the water ministers of the three major Nile River riparian countries (Ethiopia, Sudan and Egypt) began this week online negotiation about water filling of the Great Ethiopian Reconnaissance Dam, which Egypt fears that it will reduce the water amount it historically used to get from the River Nile.