The Government of Ethiopia has unveiled new currency notes replacing the old ones, Prime Minister Abiy Ahmed, said.

He made the statement on Sunday indicating that all the paper 5 Birr, 10 Birr, 50 Birr and 100 Birr notes will be replaced with new notes. He also indicated that the country will also introduce 200 Birr note for the first time this year.
"Ethiopia today unveils new Birr notes for 10, 50 & 100 denominations, with introduction of a new Birr 200 note. The new notes will curb financing of illegal activities; corruption & contraband. Enhanced security features on the new notes will also cease counterfeit production," Abiy posted on his facebook.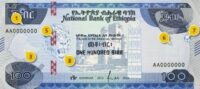 To combat the increasing organized crimes that followed the reform that brought Prime Minister Abiy Ahmed to power in April 2018 ending close to three decades stronghold of the Tigray Peoples Liberation (TPLF) over Ethiopian politics and economy, the government of Ethiopia has been advised by many people to change the Birr notes.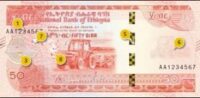 It is estimated that over 80 billion Birr is being in circulation in Ethiopia out of the banking system.