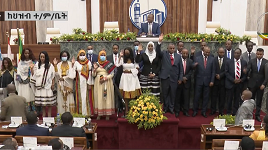 For the first time the Government of Ethiopia has appointed opposition members to serve as ministers in the new cabinet of ministers of the ruling Prosperity Party.

Justifying his decision to include opposition figures within his cabinet, Prime Minister Abiy stated that the political differences among Ethiopians "shouldn't be an obstacle to work together".
Among the opposition figures, which got ministerial position include Dr. Berhanu Nega from Ezema, Belete Molla from National Amhara Movement (NAMA),and Kejella Merdassa from Oromo Liberation Front.
Before proposing the members of the new cabinet, Prime Minister Abiy indicated that he expects his new members of cabinet ministers to avoid and eliminate theft (corruption) and begging from Ethiopia.
The cabinet members are not representatives of their tribe but their country – Ethiopia. The House of Federation has representatives that represent each tribe and ethnic group, according to Prime Minister Abiy. Seven women are also included in today's ministerial position.
The appointees include:
1- Demeke Mekonnen – Deputy PM and Minister of Foreign Affairs of Ethiopia
2- Dr. Abreham Belay – Minister of Defense
3- Ahmed Shide – Minister of Finance
4- Muferiat Kamil – Minister of Works and Skills
5- Hussein – Minister of Agriculture
6- Eng. Aisha Mohammed – Irrigation and highlands minister
7- Eng. Habtamu Iteffa – Water and Energy Minister
8- Dr. Berhanu Nega- Minister of Education
9- Dagmawit Moges- Transport and Logistics Minister
10- Habtemeskel Challa – Trade and Regional Integration Minister
11- Melaku Alebel – Minister of Industry
12- Binalf Andualem – Minister of Peace and
13- Dr. Gedion Timothewoss- Minister of Justice
14- Dr. Liya Tadesse – Minister of Health
15- Belete Molla from NAMA- Innovation and Technology Minister
16- Ambassador Nassise Chali – Minister of Tourism
17- Kejella Merdassa – from OLF – Culture and Sport Minister
18- Eng. Takele Uma – Minister of Mines
The newly established Government of Ethiopia has restructured ministries by forming a total of 21 ministries. Some ministries have merged while new ministries are introduced during today's parliamentary session. Based on the new structure, irrigation, highland areas, and regional integration, among ithers have got special attention.